The past few weeks' physical labour has drained me of almost all creative juices, and has left me struggling to come up with any decent fodder for the blog. So when I read this weekend that I'd been longlisted in some categories at the Irish Blog Awards, I wondered how I might inspire people to vote for me. Yer man, Braveheart Gibson, him what killed all the Jews, he was a good one for inspiring people. I'm more of a "they may take our freedom, as long as they leave us plenty to eat and access to the PS2" kind of guy. Not a good way to be when these things are all about bigging yourself up.

Being up at half-past five on Saturday morning (Jack decided to wake extra-early because he knew Daddy was feckin exhausted) was made that much more bearable by logging on to find that I've been nominated in three categories: Most Humorous Post for this, Best Personal Blog and Best Newcomer. I am surprised and grateful to whoever voted for me - thanks very much. Even though I requested that you vote for Sweary rather than me, doesn't mean I wasn't flattered to see my name in there. It just means that nobody listens to me.

I don't have a very big readership, but many of you who do stop by tend to comment. This never fails to keep me entertained - the comments are more fun than the post itself. Keep it up, and meanwhile, in the spirit of democracy, let's have a dance to celebrate: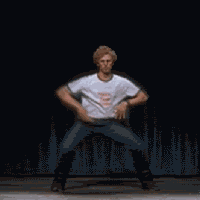 I'm honoured to be among such esteemed company as Annie, Twenty Major, Conor, FatMammyCat, Bock, JC Skinner, Dario, Devin, Nat King Coleslaw, The Rambling Man, Old Knudsen, Manuel, Eolaí, Grandad, Blogorrah, and of course fellow arse-ender, the excellent Swearing Lady. Please, direct your votes their way. I don't want my mammy finding out about my blog. Besides, my shelves are already full of virtual awards.

Oh, and Jason Roe and Red Cardinal have impressive longlists linking all the nominees. Good work lads.