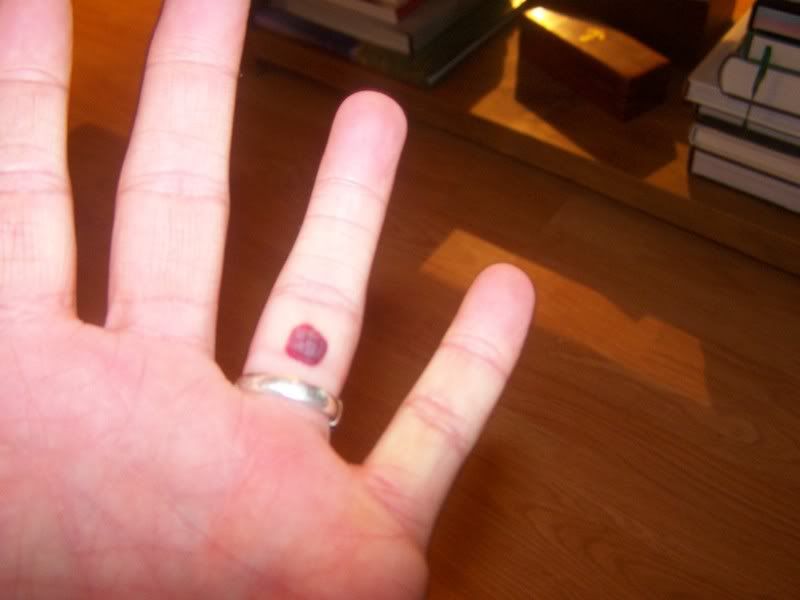 I got a bit vexed there for a while last week. My thunder was stolen, replaced by a kind of apathetic chagrin. See, up until last week, I was the only person on the entire planet who had ever been pursued by a company. Yes, in the whole world. EVER. Their interest had been a surprise, a wee lift from the mediocrity of everyday life. I got a buzz knowing I was good enough at my job to (a) have been noticed and (b) have been chased, by an enormous faceless megacorporation.

Then, last Friday, I found out that my friend and fellow team member, who will remain nameless (except in the wretched darkness of recent nightmares, where he is called Cunty) is in a near-identical position to me with another company, except he didn't even have to jump through the interview hoops that I did. No, all the bastard did was have a chat with one of the partners, and the cunts offered him a job.

Of course, what happened is highly unethical, not to mention possibly illegal. I dare not post more on it in this blog, because I'm not anonymous, but if I use the word poached you'll understand what I'm saying. Said poaching has qualities so incestuous that even Dessie Dempsey*, a lad I went to school with who supposedly shagged his sister, would be appalled.

I wish I could say more on this. Gah. Cursed self-censoring. Clichés work well in this situation. It's not what you know, it's who you know, you know. The main source of my consternation is that if I leave my current job, it might not be for the right reasons, and if I stay, I'll be fucked because Cunty will be gone and I'll be left to deal with Eeyore.

I'm not a violent person. I just wanted to let you know that because reading the next bit in isolation makes me sound like a bit of a lunatic. If I was famous, the papers would have a field day taking quotes out of context.

I was up the road picking up some alcoholic beverages on Saturday evening. On the drive to the off-licence (liquor store), I passed a guy walking in the middle of the road, arms out, Christ-style. He looked like a dirty, aggressive cunt, which was a splendid first impression to get, because he turned out to be a dirty aggressive cunt.

When I finished getting money out of the cash machine at the side of the shop, he had already found his way into the shop. As I pushed the door in, his words drowned out all the others: "...fuckin black bastard, I'm not goin fuckin anywhere ya black cunt...fuckin cameras, I don't give a fuck about cameras ya black fuckin monkey cunt..."

And so on. This went on for about a minute before he left the shop. The Asian guy (yeah, he wasn't black, which just demonstrates to you the level of intelligence this lad had) behind the counter remained perfectly calm the whole time.

For some reason, the whole sorry incident filled me with rage, so much so that I was grinding my teeth as I watched the guy walk out of the shop. I'm by no means an activist when it comes to racism (or much else for that matter), but something about that situation on Saturday night just made my blood boil. It was as much the complete and utter resignation on the manager guy's face, standing there, taking the abuse from this piece of shit, as it was the words the shithead himself was using. Stand up for yourself! I wanted to shout. Chase the cunt and bash his fuckin head in with a mop handle!

Yer man, the Asian lad, just remained calm, and maybe that's partly why I got so angry. He's seen this a hundred times before, and he'll see it a thousand times again, and he's so used to it now that it doesn't even get to him anymore, if it ever did. He knows there's nothing he can do about it. He knows that scumbags like that don't ever get taught a lesson, they just keep going until they die. The thought of that made me want to grab the fucker as he walked out the door and pin him against the wall and slam my forehead down onto the bridge of his nose. My friend Placid Paul did this once, an act of chivalry to defend a lady friend's honour, and he said that, despite being highly out of character for him, it was an enormously satisfying experience. He was a bit of a secret thug, was Placid Paul.

When I left the shop, scumfuck was standing around outside, muttering incomprehensible complaints. I locked eyes with him, willing him to say something, anything, to insult me, so that I would have a legitimate reason to lay into him. Again I must stress this is not the kind of person I am. I can throw a punch, but I've never even been in a real fight. I don't know why I had such a powerful compulsion to want to do this guy harm that night. I don't feel good about it, but it happened.

As our eyes met, I wanted to say to him, hey, when I was twelve I spent an afternoon mixing together a concoction of piss, mouldy bread, bleach, paint and various other household cleaning products, in a Flora container, then I threw the lot in the bin after it started to eat through the thin plastic of the margarine box**. Then he would look at me and say good lord, sir, why on earth are you imparting such information to a gentleman such as myself? To which I'd reply, well, worthless, pointless and disgusting as that short-lived concoction was, it was still more useful than you are, or likely ever will be, and I have more respect for those crunchy insects that skitter from daylight when you lift up a stone than I do for a piece of shit such as yourself.

I wanted to choke him on the blackness of my contempt, contempt I usually reserve for other people's children and men who cry at romantic comedies. Instead I just walked on and drove home and told Linzi about my short-lived homicidal tendencies.

In other news, we are now officially a 2.4 children-having, Renault-driving, Oprah-watching, twice-a-day-brushing, ornery lower middle-class Tom and Mary. I know this because we created a rota for household chores at the weekend.

I am off work this week. I'm laying a concrete base for my garage and fixing the fence - it blew down a few weeks ago during those bad winds. Proper man-work. It's made me remember how much I hate office work. It's been too long since I've worked with my hands, and they gleefully reminded me how soft and unused they are. A couple of hours wielding a pick-axe and I got the blister you see in the pic above. What a pussy.

I can say that now because by the end of this week I will be a calloused, grizzled, sprightly whippet of a man worthy of my very own Diet Coke ad.



*not his real name
**true story - I don't know, probably because I was bored.