In evil sympathy with the horrendous weather of the past few weeks (worst November in 40,000 years, the papers say, the lying cunts), my shoes have chosen to start leaking. Feet farting and squelching as I walk, the minutes are passing like hours in these sock-sodden days. Work is also a complete pisser right now, as I thought I'd be able to wind down over the next week or so. Instead I have to come in next week on three of my four days off.

Plodding through the rain yesterday evening, the seeping soakage creeping up my sock from toe to insole brought back vivid memories of my Frank McCourt-like childhood, when leaky shoes were simply called shoes, because I knew no shoe but the holey, leaky kind.

I grew up relatively poor you see. Relatively poor with poor relatives, I was fucked from the start. My concepts of style and fashion were drawn not from the pages of glossy magazines, nor from the dubious off-the-rack chic of Penney's or Dunnes. My wardrobe was a peculiar assortment of hand-me-downs from several generations of my extended family. Observe a typical childhood outfit: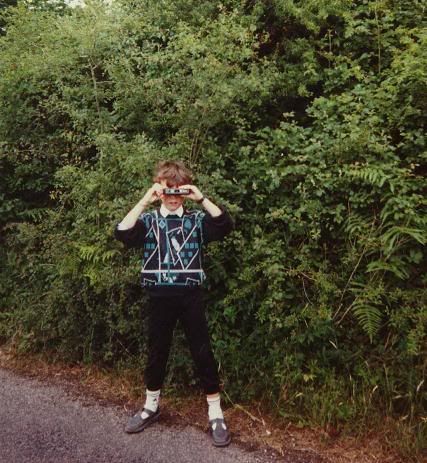 What's that? You want more of the style king? How about this pose, taken on the shores of the lovely Corrib? Note the trousers/socks/sandals combo. The trousers were tracksuit bottoms for a 7-year old, hence the visible ankles.
I am a rock, I am an i-ee-ii-land.
The only thing we'd get bought new for us was coats and school uniforms. You need a coat you see, to keep warum. My Granny would regularly skin me alive for not wearing my jacket: "Tis cool mind you, and haven't you a grand warum jacket there? Ara sure the kids today don't wear jackets, but you need to cover up the hollow in your neck and it's pouring down, that oul misht I hate it, I'd rather it rained properly or not at all, tis a curse and you out in it with no jacket on ya!"
And so forth. When I look back on my stylistic debacle of a childhood, as well as finding it horrible and hilarious, I'm also very glad I experienced it. It allowed me to grow up humble. Almost every day, I look at what I've got, all the material shite I have amassed (amassed, I am convinced, precisely because I could not have any of this stuff when I was younger) and, although it's nothing more than a bog-standard life by anyone's measure, I'm still amazed by the comparative luxury I now live in.
The house I grew up in had no central heating, and no shower. My sisters and I used to hammer the shite out of each other with kettles, swords, chairs and the like just for something to do to keep warm. Hot water was at the flick of a switch, a switch you'd get a bollicking and a boot in the hole for flicking. Heating up water was fierce dear, you see.
We never had a car. (My dad bought his first car - the first car he EVER owned - last year. I kid you not.) We did not have a phone until I was ten (this was 1989, not 1969). No video recorder until I was 13. Our tv was older than me, and my dad only replaced it in 2003. We held a small ceremony for it: RIP Sony Trinitron, 1978 - 2003.
It toughens you up though, no doubt about it. Our central heating broke down for three days last month. After those three days, Linzi and the kids had the snuffles and went on to develop full-blown colds. Me? The brief cold snap just brought back fond memories of a shivering childhood as I washed myself with some ice-water and used iron filings and nettles for soap, and strolled around the house in my boxers balancing eggs on my knees.
The kids though. Them getting sick like that got me thinking. They've never gone without anything (essential) and they never will as long as I'm around to provide for them. But isn't that, in a way, depriving them of something? To have and show humility is something a lot of people in society seem to lack. To be humble, to appreciate being better off than others, you need to have something to compare to, and you can't beat personal experience. I don't want my kids turning out like some of the spoiled fuckers I know.
They have it all, or close to it, and I won't ever apologise for that. But we're going to have to work really hard to make sure they fucking well appreciate it.
The question is: How do I get them to appreciate their lot without turning into a carbon copy of the dithering old folks you hear rambling on about how the kids today have it easy, and in their day they used to walk 30 miles to school in their bare feet with only a handful of rocks and a flask of liver for their lunch?
~
This horrible weather has provided me with a great joke:
Why does Snoop Dogg always carry an umbrella?
Fo' drizzle.
Okay, so it's not great, but it made me laugh. I love that izzle talk.