First things first. Thanks a feckin million to Devin for being unbelievably generous - true to her word, I received my first ever Christmas present from a virtual stranger - Stadium Arcadium by the Chili Peppers. I will indeed play it loud and will remember you when I do so. Thankee ma'am. 2007's going to kick ass for you.

You may note in the above pic that I got another couple of other CDs (welcome to 2005, Kav, yay). If you look closely you'll see a fairly innocuous-looking object that has already changed my life for the better. Yes, my wife only went and got me a motherfucking MP Thrizzle Plizzle, muhfuckas! Again, welcome to 2005, Kav. This thing is fucking brilliant. I've already got all three of the above albums on it and there's still room for hundreds more...I'm like a child who's just discovered the joys of the crack pipe. I'm looking forward to going back to work just so I can ride on the train and listen to loud music. In a small way, this little device helps me be me, rather than daddy or husband.

Anyway, happy new year or whatever. New year's eve wasn't shit, and you know why? Because we chose to share it with a couple of close friends and an assortment of alcoholic beverages, enjoyed in the comfort of our own home while the wind and rain battered the fuckin eejits standing around outside trying to conjure up some sort of spirit of togetherness or whatever the fuck the reason for everyone congregating at new year is. If you were there....sorry, but what the fuck were you up to? That storm had been forecast for days, like.

It's nearly always shit though, isn't it? Almost every new year I've had in a pub or a club, with their fucking extortionate entry fees and pushy queues and drunken gobshites who can barely stand by the time midnight rolls around...every single new year, you're obligated to do this simply because every other cunt is doing it, and it ends up being shit. That's why for the past few we've rung it in at home, except for ought-three when we rang it in in New York in a glass-walled restaurant looking out at Brooklyn Bridge with free drink for the entire night and nought for company but the four of us and a dash of the joy and exuberance that comes from being young and unencumbered by kids.

Speaking of kids, mine are fucking amazing: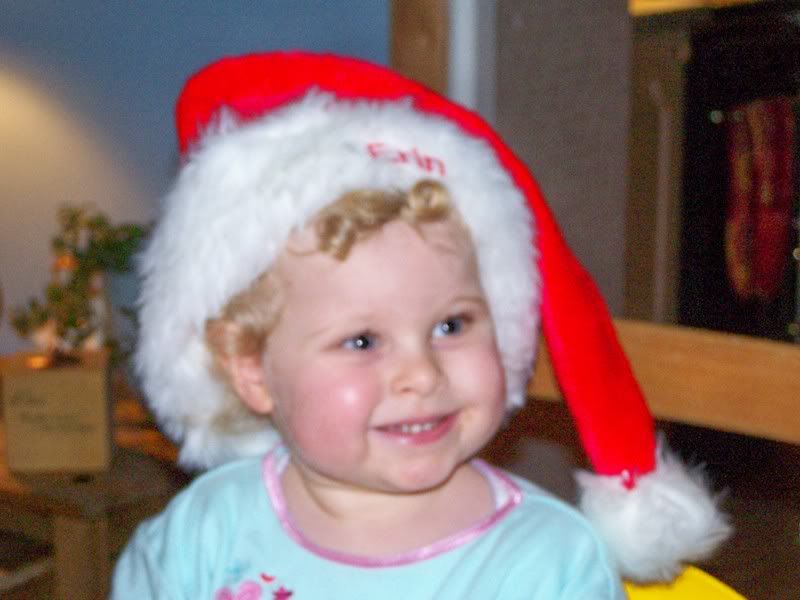 Catching up on your blogs (you lot didn't slow down for the holidays, did you? Fuck me, it's taken me hours to read everything I missed...I'm dreading having to comment.), I've noticed a lot of you have been tagged to write "5 things nobody knows about me". Pah. Look at me laughing at you, my face full of scorn and derision. You bunch of lazy cunts, five? I've got 101 sitting here. Come on, be a man, or a girl, if that's your thing. If you're only telling me five things, you may as well not fucking bother.

Christmas was good. Aside from getting sick on Christmas Day and spending the rest of Christmas week shivering, wracked with pain, it was pretty damn good. Because I was sick, I couldn't eat as much as I'd intended; I was so sick, I couldn't even bring myself to have a wank. As you probably know, I am a horny bastard, and it pained me immensely to not have the energy or inclination for sexual activity. It always happens to me - as soon as I have some time off to relax, the old immune system decides to fuck off on its own wee mutinous holiday, and everything I've been resisting in the drudgery of daily life decides to take me roughly from behind. Without lube.

I'm better now though.

I came this close to deleting the blog around Christmas Eve. What? No, this close. Can you not see me holding my thumb and forefinger millimeters apart? Alas, it wasn't a tear-filled scene where my finger hovered over the delete button as my blogging life flashed before my eyes - if only real life could be so melodramatic. No, it was more of a sober reflection (then, later, it became a drunken reflection) on the choices I've made in the six months I've been writing this horseshit. Long story short: if I could go back and start all over, I'd completely anonymise myself. I think I've been naive to reveal who I am. When people know who you are, there can be consequences in everything you write.

But fuck it. Bed made, I'm fairly comfortable lying in it now. If you don't like it, please do continue to feck off.

Happy new year to you. And especially to Old Knudsen and The Swearing Lady, who know why.