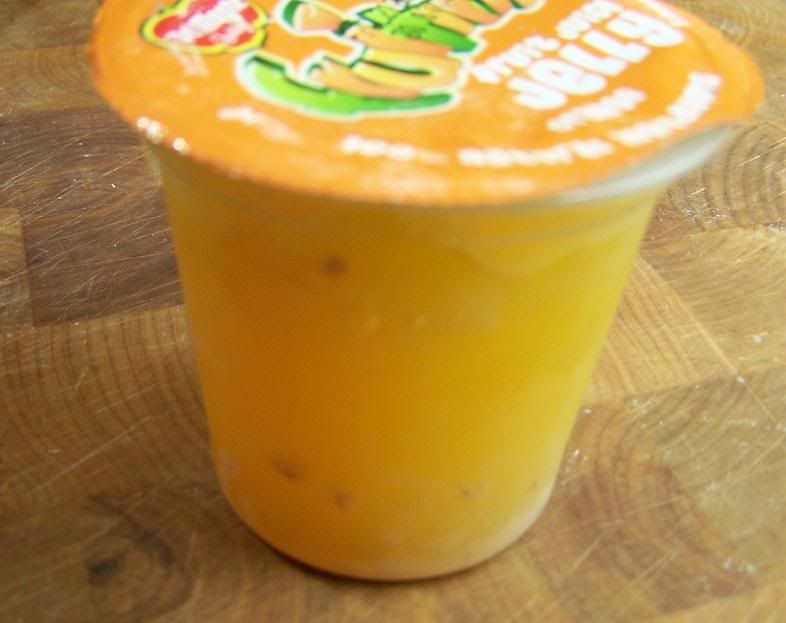 In a rare case of life imitating, eh, life, fucking Del Monte have once again almost poisoned my family.

If you're wondering what the fuck I'm going on about, read this and then report back here. Go on and read the fucking thing, it sets the scene for this post. Seriously, if you don't, it's like watching The Empire Strikes Back without ever having seen Star Wars. Just look at the title of this post if you need any further confirmation.

I'm in a sweary fuck of a mood at the moment. Okay, I admit, the first time Del Monte almost killed my family was partly my fault, but this, this is inexcusable.

After Erin finished her dinner this evening, I went to the fridge and got her a (Del Monte-made) Fruitini for dessert. Being a gluttonous bastard, I helped myself to a mouthful of the orange jelly on the journey from the fridge to the dinner table. Moments later, I splattered this mouthful all over the living room floor.

The smell emanating from the "jelly" was a curious mixture: the blandness of wallpaper paste crossed with the fumes from superglue. I've never tasted wallpaper paste or superglue, but the taste was definitely more akin to something industrial than to anything jelly-like.

I was pretty sure it was lethally toxic, but just to be on the safe side, I shouted to Linzi to come downstairs, and made her taste a bit of it. She made it to the sink to spit hers out. She's a lady, whoa whoa whoa she's a lady.

(Incidentally, Linzi always goes apeshit at me for horsing into the children's food, so I felt particularly smug this evening after making my discovery. "I was merely performing my role as a taster to make sure the food was fit for human consumption, you see. And LOOK! I protected our daughter from ingesting jellified death!" Kav 1, Linzi 0.)

Upon closer examination, the container was undoubtedly contaminated with something. I've done a picture to highlight the contents. Bear in mind that this is usually just a uniform translucent orange - there should be no patches of stuff. Click on the pic to zoom: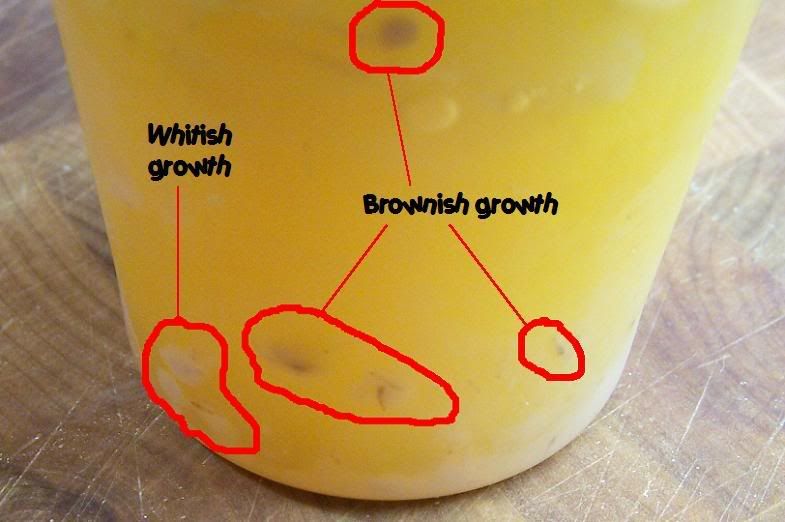 Based on the knowledge I obtained as part of my microbiology degree, I've established the whitish stuff to most likely be a member of the Clostridium family. If I had any, I'd put my money on Clostridium botulinum. The presence of even a millionth of a gram of the C. botulinum toxin is all it takes to trigger botulism and near-instant death in humans*. Of course, it may just be C. difficile, in which case all we would expect is severe diarrhea; I did not have sensitive enough devices on my person to detect the exact strain**.

The brownish stuff is obviously the freshly-hatched eggs of a flesh-eating insect of some kind. However, having no expertise in this field, I can only speculate with a high degree of certainty that the insects, if ingested, would have erupted from my innards (or the innards of my family, bless them) in the same manner as poor old John Hurt met his demise in that scene in Alien**.

Of course, I will be writing to Del Monte to ask the stupid cunts what the fuck they think they're playing at, trying to poison another generation of my family. I may even ask my mother to do it - imagine how bilious she's going to get when she hears about this.

I'll keep you posted.



*C. botulinum spores are one of the reasons it's bad to reheat leftover rice. Instant death, I tell thee.

** Of course, I've made up most of these two paragraphs, with the exception of * above, and the bit about diarrhea.