Being a heart-stoppingly incredible husband and father while maintaining a full-time career isn't easy, but somehow I manage.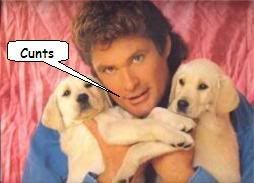 The past few days have had me working from home, tending to a sick wife and two cranky but lovable offspring, all the while airing my views at important work meetings, smiling with equal parts benevolence and malevolence, educating starving orphans on the risks of having unprotected sex, and dedicating 25% of my profits to charity. It's been a trying few days, leaving little time for me to study for the exam looming on the grey horizon that is November's end.

What a bleak bastard of a month. Roll on December 9th. There will be much alcohol consumed, including some of Samuel L Jackson's Badass muthafuckin Ale.




I've had a lot of nosebleeds recently. They're quite an accurate measurement of my stress levels. Almost every exam or major life event (wedding, driving test, going down on a girl), even some dates, are preceded by nosebleeds of varying intensity.

Just last week as I jogged through the arid Outback towards the moister northern regions, I was attacked by an elf-like creature with hands made of tinsel. He attempted to thwart my search for fresh blue-winged kookaburra (seasoning for a recipe I was working on) by menacingly shaking his shiny foil hands at me. As luck would have it, my nose chose that exact moment to gush, and I doused Tinself (as I came to know him) with lashings of the red stuff, before setting him on fire. His burning attracted kookaburras from miles around. Dinner that night was a talking point among the web community for days. On my way home I sang, to the tune of Dolly Parton's 'Jolene': "Nosebleed, nosebleed, nosebleed, noseblee-eee-eed, I'm bleeding like a piglet cooked for ham."

Hmmm, just realised that I've covered posts on shitting, puking, farting, phlegm and now, nosebleeds. All I need to do is pull one together on pisses I have had, and that will complete Kav's Bodily Functions Omnibus, Volume 1. Volume 2 will be dedicated solely to some classic tales about wanking.

~

There is major shit going on at my work at the moment, of particular interest to any of you Scottish blaggers out there. It will undoubtedly make headline national news, and will probably be a bit of an international item as well. Alas, codes of confidentiality and all that cack prevent me from doing anything except dangling this carrot, but those of you with Site Meter and access to Google already know who I work for and can put two and two together from what you've already seen in the news about it.

Gah. Fearing for my job does not help the stress levels.