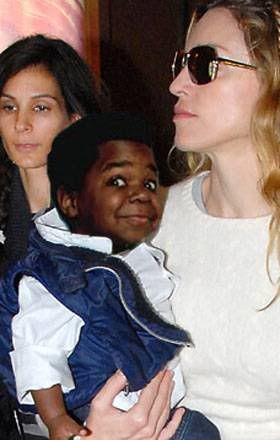 Things aren't always as they seem, eh Madge?
Working in the UK utilities industry (gas/electricity/renewables), one of the questions I am asked with irritating regularity, usually posed to me in an aggressive tone as if I alone were responsible for the horrendous price rises over the past couple of years, is "How the fuck can you cunts justify whacking on a 10/20/30% price-rise on electricity to the customer? It's ridiculous and unfair, considering the enormous profits you guys already make."
The problem with the answer to this is that I can't give a simple response, so people end up losing interest half-way through my explanation, content to bathe in the vitriol of their chosen viewpoint rather than consider that perhaps there's a valid reason behind this after all. If this is a topic that interests or concerns you, bear with me and I will try to explain how it works, albeit on a very simplified level.
If it doesn't interest you, fuck off and read some of the fluff below.
My comments here refer to the UK utilities industry, but the
ESB
in Ireland is organised in roughly the same way.
The electricity industry is divided into three main areas: Networks (aka Wires/Transmission), Wholesale, and Retail. The networks industry is concerned with the infrastructure used to supply electricity from the power station to our homes and businesses. There are few players in this industry, for obvious reasons: pylons and overhead cables are rather unsightly items; if companies were given free rein to build their own infrastructure, there would be a mass of ugly power cables criss-crossing the land. Therefore, the networks industry is tightly regulated so that each area of the country is managed by one company. This company is wholly responsible for the wires in this area.
To prevent anti-competitive behaviour, there are equally stringent regulations in place in the next area: Wholesale. These regulations prevent favouritism; for example, if my business manages the network in this area, I'd be tempted to sell electricity to the wholesale side of the business for less than I sell it to our competitors, thereby increasing profit margins. However, this is velly velly illegal (as
fatmammycat
might say), punishable by enormous fines and the like.
The upshot is, at any given point in time, all companies buying wholesale gas and electricity must be charged the same amount for it. The trick is in knowing when to buy and when to hold off, a practice known as hedging. Some companies are brilliant at hedging, and this makes the company serious dough. Taking a common example: currency. Say a pound is, right this second, worth two dollars. If you buy a million pounds worth of dollars, you then have two million dollars. Five minutes later, the dollar price drops and a pound is only worth a dollar fifty. You sell your two million dollars, but because the dollar has strengthened against the pound, you make back £1,330,000, or an extra £330,000 on your initial one million investment.
The figures used there are kind of extreme, but you get the idea. Market fluctuations means this happens hundreds of times every day, and the key is knowing when to buy and sell. The exact same rules apply to the wholesale business buying electricity.
Networks and wholesale are known as the regulated industries, because they are strictly governed to ensure they're run fairly. The third area of the electricity business is completely deregulated, meaning it's a free-for-all out there in the market. The third area is the customer-facing side of the industry: retail.
This is the side of the business the average man on the street is familiar with. You know all the big and not-so-big names, I'm not going to list them. You've seen the ads with all of them telling you they're the best. I'm not going to argue. The beauty of modern regulations is that, unlike years ago, we're now free to choose who supplies our electricity based on which company is cheapest for us.
All of the above is a background to give an explanation as to why the cost of electricity is increasing. Put simply, the fuels (coal/gas) used to power the stations used to transmit the electricity to your home and business are becoming scarcer and more costly to mine (deeper, harder to find). Therefore, the power station is charged more to buy the coal/gas. Therefore, the increased cost of producing electricity must be reflected in the wholesale price of the electricity.
Due to the factors described above, the wholesale price of electricity has increased enormously over the past few years. Clever well-managed hedging allows businesses to make profits in the wholesale area, but it is inevitable that such price increases will eventually be passed on to the customer. The industry does not take this lightly, but the fact remains that it has to be done. My company, though it makes good profits, actually makes a loss when you look at the retail side of the business on its own. This is considered a necessary evil to keep customers happy.
It needs to be understood that traditional means of generating power will, probably in our children's lifetimes, no longer be viable. Tens of millions of pounds are invested every year into ensuring that renewable sources of energy, like wind turbines, are created, but not enough's being done. Part of this is a cultural problem, part of it is lack of support from the government. The government have seen making promises regarding renewable energy as a vote-loser, so rather than drive the issue, they've proposed penalising the industry with huge fines if targets aren't met by certain deadlines. The industry needs support to achieve its target, rather than penalisation in the event it doesn't, if it's to be successful in developing next-generation methods of energy production.
On the cultural side, you've got the NIMBY folk who on one hand are clamouring for something to be done about the situation, and on the other are saying, "Oh no, no wind farm in my area, those things are ug-lee." You can't have it both fucking ways.
And finally, the industry themselves need to speak up. I can't for the life of me understand why this isn't explained in layman's terms to people. It's not like it's a secret - any of this info I spoke of is in the public domain. It's just that it's usually described far too technically for people to take it in. The industry needs some good PR people to explain the situation.
Anyway, I realise I will be lucky if more than two people read this far, but it's something I needed to spill out. I'll come back and check this for sense later, but for now, what you see is what erupted from my mind.
Just to clarify: I'm not claiming everything here to be 100% accurate, and my views are entirely personal and don't reflect those of my company or the industry. All the shite I spout here is just opinion.
HAVE A SPECTACULAR WEEKEND.