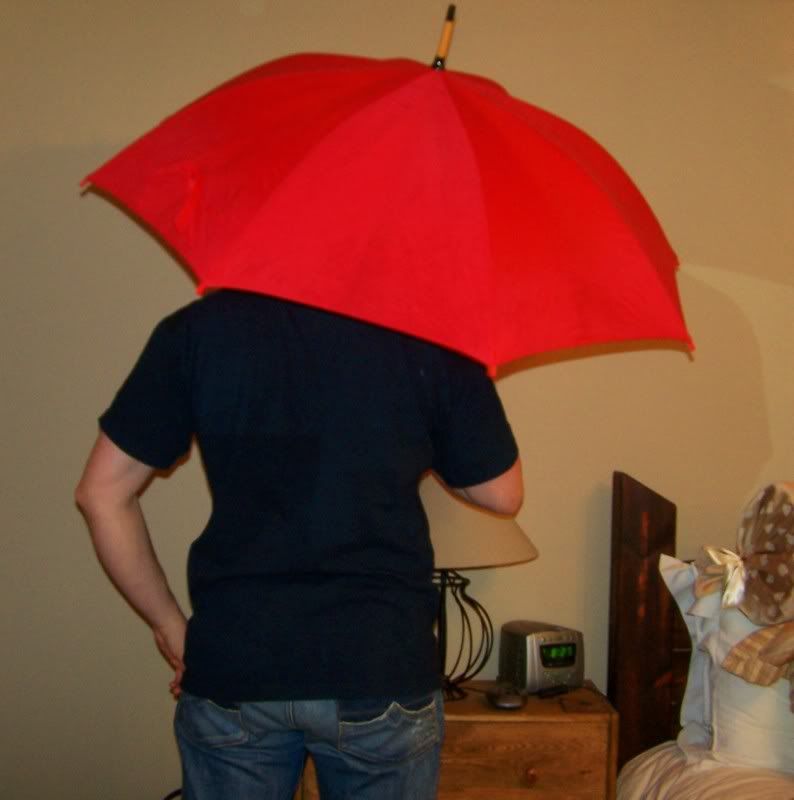 ...here's a post about umbrellas. Quite the dashing figure I cut, sporting a bright red girlie umbrella, eh? Jesus Christ.

Until recently, I've been strictly anti-umbrella, on the grounds that they are gay. I've changed my attitude of late after getting fucking saturated a couple of times on my way to work. Being damp and miserable for a ten-hour stretch tends to focus the mind, and led me to swallow the last of my ragged pride and say fuck it, umbrella time. I picked up a shitey old umbrella lying around the house - fuck knows where it came from. Linzi swears it isn't hers, and there's no feckin way it's mine. Honest.

I don't know if it's a man's umbrella or a woman's. I do know that to call this umbrella gay would be an insult to gays everywhere.



I've already used it twice this week, and a grand job it's done of keeping me dry.

Christ, and I wonder why I don't get eyed up anymore.

What do you say, blogging types? Umbrellas: Yay or Gay? Can a man ever get away with an umbrella?