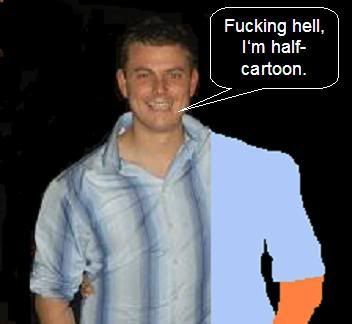 The above picture was originally going to have me saying "Ask me anything", but I changed it to something completely irrelevant. Woot.

Anyway, kudos and credit go to Debbie for her excellent idea which I am unapologetically thieving. To compensate her for this, I urge you to go and check out her blog - her honesty and cleverness puts my blog to shame. Shame*, I say.
Since I have no choice but to be a lazy blogger for the next while**, I figured I'd open the floor to you lot. If you have anything you want to know about me (fucking hell, I haven't even published this post and I've already received three mails asking me why I'm such a cunt), or questions you want answered, feel free to comment and I will update this post as and when I'm able to. Hopefully this will keep things mildly interesting around here while I go about my bidness.

Have at it.


* Catholic shame - it's the worst kind.

**I'm very annoyed about this because I've got notes on half a dozen posts that I don't have time to type up.

UPDATE: Oh yeah, I want to hear from any lurkers. You popped in for a while recently but then you got complacent, and settled back into your anonymity. So, ask something. If you don't, I'll shake my fist at my PC in a threatening manner.


~~~~~~~~~~~~~~~~~~~~~~~~~~~~~~~~~~~~~~~~~~~~~~~~~~~~
The Swearing Lady breaks the ice with the following:

Dear Kav,

What's your pints-drank-in-one-day record? Mine's 47.

Ooh, also. If you had to be one of the teenage mutant ninja turtles, which one would you be?

Ooh, also, also. Describe the taste of red lemonade.

Love, Me.

~

1. Of course, I have no way of verifying this, but a couple of my friends read this blog (but never comment - the cunts) and I am sure they would break their vow of blogsilence to call me a liar if I gave you an obviously inaccurate figure. So I'll be as truthful as possible when I say I imagine it to be in the region of 14 - 18 pints. Normally I would not drink this much pint-wise (I usually switch to vodka at some point), but my friend Paul's birthday is on Paddy's Day, and we used to have a rule when we drank on his birthday that you could only drink pints (yeah, like that was ever followed). Therefore I will select the median and say 16 pints, and suggest that this was probably on a St Patrick's Day between 1998 and 2002.

47 pints - that's impressive. You're from the country though, so it doesn't count.

2. I had to Google to find out which was the lad with the nunchucks, because he was my favourite lad to use when playing TMNT on the Nintendo. Michaelangelo, he was. So, him for his weapon, but Leonardo for personality. And April the news girl if I had to shag one of the characters

3. Red lemonade. Tricky. Warm TK red lemonade is the backbone of an Irish social occasion, but how to describe its taste? Sweet, fizzy, sticky, useless at quenching your thirst - it's all of these things. But its taste...hmmm. I'm thinking the only way to describe it would be to imagine you have a glass of ordinary white lemonade, and to it you add a good splash of red stuff. The stuff's properties are unknown - it's just called "red". So, red lemonade tastes like white lemonade with red stuff in it. That's an awful answer, but it was a hard one.
~~~~~~~~~~~~~~~~~~~~~~~~~~~~~~~~~~~~~~~~~~~~~~~~~~~~
Debbie asks:

What is your favorite time of year? Your favorite holiday?
~

Favourite time of year is May, partly because it's my birthday month and partly because it's the start of summer, and I love summer. Favourite holiday is Christmas, because I don't really do anything for any of the others. And this year I have 21 days off at Christmas. How fucking great is that. 21 days. I had to work Christmas last year and vowed I'd take a decent holiday this year, especially cos of the kids too. Oh, and Christmas definitely wins because it was always the best time of year with my family.
~~~~~~~~~~~~~~~~~~~~~~~~~~~~~~~~~~~~~~~~~~~~~~~~~~~~
Old Knudsen asks: For the last two days I've had blood in my shit, could this be a sign of colon cancer or just excessive scratching?

Also when I stand up I get a little dizzy, this is usually after only 8 beers and a bottle of smirnoff so what could this be?

Have you ever tugged the lad to gay porn?

Where did I put my specs?

Do you think you should of limited people to one question each? some folks really take the piss.
~

1. I would say you should check your arse in a mirror, and if there are no obvious clawmarks, you probably have cancer. At your age this is a serious condition, yet treatable if you get a good chunk of your bowel removed.
2. This tends to happen if you expose yourself to any sort of natural light. Next time, check it isn't during the day - if it is, the clear answer is you're got a sensitivity to sunlight and ought to remain indoors, ideally a pub or house well-stocked with said beverages, and you'll be fine.
3. Does having a shuffle during that scene in The Crying Game count?
4. Did you check your rectum? It may explain the bleeding.
5. Probably, but I'll take what's given.
~~~~~~~~~~~~~~~~~~~~~~~~~~~~~~~~~~~~~~~~~~~~~~~~~~~~
Summer asks:

Describe your first school dance.

What's your favorite dishes to eat for holiday dinners? (i.e. Christmas, Easter, etc)
~
1. Hmmm...we don't have school dances in the traditional sense that you Americans do, but as it happens, my secondary (aka high) school actually held various dances while I went there. They went under the moniker "Bish Disco", Bish being the nickname of my school. My first school dance, therefore, was probably one of these. I was sober, and I definitely didn't score, so it was a load of shite. Girls were still fairly alien to me in those days, so most of my first few "dances" followed this pattern.
2. Favourite dishes: Well, I tend to enjoy food on any occasion, but if I had to specify, I would say that ham boiled in Coca-Cola (don't knock it until you've tried it), sausages wrapped in bacon, and stuffing are all delicious holiday foods. You said dishes though, which implies a sumptuous feast of different things. My ideal holiday dish would be seafood cocktail to start, followed by spicy parsnip soup, followed by roast turkey, the aforementioned ham, some delicious turkey stuffing, the sausages described above, some properly-cooked roast potatoes (poorly cooked roast potatoes may as well be used as grenades) as well as some random vegetables to add colour to the dish. The veg would of course be ignored in favour of the meat-based food. Dessert would have to be something chocolate-based, ideally with cream, fruit, jelly, ice-cream, pastry and toffee thrown into the mix. Then I would have a coffee and fall asleep in front of the fire while the women cleaned up.
~~~~~~~~~~~~~~~~~~~~~~~~~~~~~~~~~~~~~~~~~~~~~~~~~~~~
Steph asks:

so. What are you wearing? Meooww! :P

Seriously. Ahem. Errrr.
Do you play dutch ovens with the wife?

Which is worse. Your da's bum crack, or ya mams cleavage?

hehehehehehe!

~

1. As I type this, I'm wearing a long-sleeve t-shirt. It's mostly blue, but the arms are white. And boxers. That's it. Yes, it's 3.30pm on a Saturday. I'm white trash.

2. I have no idea what this means Steph. Is it an Aussie sex thing?

3. Mam's cleavage, I would say. I could just shout at my dad for having his arse on show, but not so with mam.

~~~~~~~~~~~~~~~~~~~~~~~~~~~~~~~~~~~~~~~~~~~~~~~~~~~~
Fat Sparrow asks:

So, good in-laws and family being hard to find, what do you think about an arranged marriage between the Nestling Sparrow and Erin? CV, pictures, and stats can be supplied on request. This would be a non-salaried position, of course. All reasonable offers will be considered.

And, do you have any friends or family that would be willing to be interviewed for the Fledgling Sparrow? She's a gift, but she's a good-looking gift. Unbelievably, she has excellent prospects. She will be attending college and plans to be a school teacher. She can relocate (forcibly, if I have anything to say about it). Again, same referrals as stated above.

~

1. That was acceptable to me until you mentioned that no financial advantage would be gained by the arrangement. However, I'm a firm believer in arranged marriage, so this plan still sounds like a winner. Send me a brief description of the youth, include a recent STD test, and his likes and dislikes, and I'll see what I can do.

2. Some of my friends are sick bastards and they are willing to wait until she reaches the age of consent. However, they tend to live hobo-like existences, unsure where the next bit of food is coming from, so they may not be the safest hands to ship the fledgling off to. I'll work on it and let you know.

~~~~~~~~~~~~~~~~~~~~~~~~~~~~~~~~~~~~~~~~~~~~~~~~~~~~
Old Knudsen asks:

If you found a sexy and still warm dead girl (natural causes still intact) in an out of the way place how long would it take you to call the cops?

If I found one do you think after a week its still ok to phone them?

~

1. Call me traditional, but for me, the fact that she's dead negates any sexiness she may have once possessed. I have an active imagination, though, so I imagine it would be a good half hour or so before I called the cops, because it would take me that long to stop screaming and freaking out and making sure I had burned the memories of the corpse somewhere in me that only gets to come to life when it's dark and there's nobody else around. On an unrelated note, that's why I like horror movies.

2. Call them, but make sure you give the corpse a good wash first. They can do all sorts with their DNAs and their HIVs these days.
~~~~~~~~~~~~~~~~~~~~~~~~~~~~~~~~~~~~~~~~~~~~~~~~~~~~
The Swearing Lady asks:

You know your problem, Kav? You hang out with very butch and hairy ladies.

Anyway, a question. What's nerdier: collecting X-Men comics or working in PC World?

And a genuine, relevant question. What's your favourite hangover cure?

ALSO: What kind of eejits would have a son on St. Paddy's Day and call him Paul? Where's the sense in that?

~

1. You're just jealous.

2. Collecting X-Men comics is nerdier, but there's absolutely nothing wrong with that. On the other hand, I've only ever known cunts to work in PC World.

3. My favourite hangover cure has no oldwifery about it, and is a bit boring as a result. Personally, I've yet to find a cure that can beat having a shit, shower, shave and a pint or two of orange juice. Also, I've been known a time or forty-nine to partake of the hair of the dag, but everyone knows that's just an excuse to get fluthered again.

4. There's a story behind that, as it happens. Here is the story: Paul's parents hate the name Patrick with a passion. It's a true story.
~~~~~~~~~~~~~~~~~~~~~~~~~~~~~~~~~~~~~~~~~~~~~~~~~~~~
Marika asks:

What did you want to be when you grew up? Give reasons for your answer.

~

When I was very young I wanted to be an architect, but that was before I realised I had absolutely no aptitude for advanced mathematics, so that career choice was given short shrift. I have variously wanted to be a journalist (couldn't do it; I may be a cunt but I'm not that much of a cunt), a carpenter (my grandfather used to build boats and I grew up around them, but because of being smart, my family thought university would be more up my street than a trade. My bollocks.), a radio DJ (again, I'm not quite enough of a cunt to be a traditional Tony Fenton type DJ, but I can spout some amount of shite so I'd be good on a pirate station or something, waffling about nothing in particular while playing QOTSA requests for The Swearing Lady)...to tell the truth, I still don't know what I want to be, but I know I'm not it yet. I mean, who the fuck wants to be an IT Compliance Analyst when they grow up?

If I could go back and do anything, it would be carpentry/joinery.
~~~~~~~~~~~~~~~~~~~~~~~~~~~~~~~~~~~~~~~~~~~~~~~~~~~~
Summer asks:

Do you really not know what a 'dutch oven' is?

I thought you, most manly of all men, would know about this. Google. Google is your friend.

~

I really didn't know, but thank you Fat Sparrow for that enlightening explanation. Now I'm lost as to what double dipping is, but I'm afraid to ask because I know it will be fucking disgusting.

Anyway, now that I know what it means, to answer steph's original question, no, I do not play that with Linzi. She would go fucking ballistic if I did. There are many topics she finds hilarious, but the smell of my farts is not one of them. She says that every time she thinks of Christmas 2005, she will think of the stench of my farts from a particularly bad week on the sauce. Enough said on that topic, methinks.
~~~~~~~~~~~~~~~~~~~~~~~~~~~~~~~~~~~~~~~~~~~~~~~~~~~~
Fat Sparrow asks:

Kav, if you really want to know what "Double Dipping" is, just e-mail me. I'll bet you've done it, ya dirty Fenian bastid.

As for more questions, you have the Gaelic, do you not? Can you tell me how "losgann" is pronounced? It may be incredibly obvious, but Gaelic can be tricky. Reading books and trying to figure out the Gaelic pronunciation is a bitch.

Also, do you think you will go to Hell for having upside-down crosses in your sidebar, or are you just a St. Peter devotee?

~

I will email you asap, FS. Besides, I have a bone to pick with you. Heh. I said bone.

1. I have a bit of Irish, which is quite close to Gaelic, but not the same. I've never heard of the word losgann - the closest I can think of is loscann, which means frog. As for pronunciation, you would most likely say it "loss-gone". What book you reading?

2. No, I don't think I will go to hell for that, because I have done far worse...
~~~~~~~~~~~~~~~~~~~~~~~~~~~~~~~~~~~~~~~~~~~~~~~~~~~~
Conan Drumm asks:

Dear Kav, please tell us what you like and dislike most about your Scottish exile?

~

Conan, good question. Things I like most: Nobody has any preconceptions about me, I can be who I want to be and not be prejudged as I would be in Ireland. I earn about double what I could earn back home. I can remain on the fringes of the bigotry and racism in Scotland, as opposed to being drawn into it in Ireland (whether I want to be or not). I have a much higher quality of life here due to the affordability of things.

Dislikes: the geography of Scotland tends towards dispersed, so the need to travel longish distances to do basic things is more or less taken for granted - this is annoying when I've been used to Galway, where almost everything's available within a 10-mile radius. I really miss Lough Corrib; I grew up on the lake and it's the single thing I miss most about home. The lochs over here just can't compare - Loch Lomond is the biggest loch in Scotland and it's only half the size of the Corrib. I dislike being apart from my family and friends, but as migrations go, I could not have picked an easier place for us all to travel to and from. I dislike how much it costs every time I do go home, and I dislike that every time I have holidays I feel obligated to go home. Going home for five days costs more than two weeks in the sun, and that's no bullshit.

There's alot more - I wrote a long post about this stuff a while back if you're interested.