Vicki Costanzo Yancey
1958 - 2001


Five years ago today, Vicki Yancey boarded a plane destined to kill her and 183 other in
nocents when it hit the western side of the Pentagon. She had meant to leave Washington on an earlier flight, but circumstances conspired to prevent this. On her call to let him know about the change in plans, some of the last words she and her husb
and David exchanged were "I love you".


~~~~~~~~~~~~~~~~~~~~~


Vicki was both active and an activist - as well as being a devoted mother to
her children, Michelle and Carolyn, and wife to her husband David, she was also heavily involved in
politics and social issues, so much so that in 1991, she was asked to testify before the US Senate Finance Committee, commenting on
the struggles of middle-class families. Vicki herself described her S

enate appearance as
"the most in
teresting thing I have ever done"
. It led to her being profiled on CNN and PBS, and she delivered the CNN Quote of the Day:
"Diving deeply into debt in our middle age is a very unappealing possibility".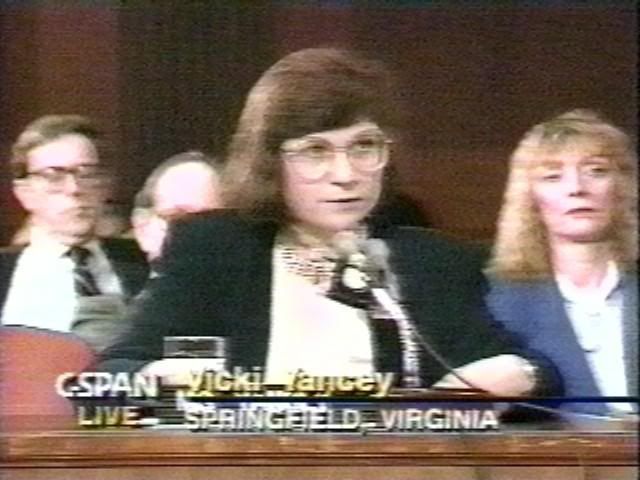 Vicki was middle-class with a difference. Unlike so many who are content with their lot and show little concern for their fellow man, Vicki firmly believed that if you wanted to make changes, you had to make yourself heard. In David Yancey's words, "
She cared for all human beings".
Apathy and laziness were unfamiliar concepts to her. Her compassion for others was obvious even after she died, when David implored America's citizens not to abuse Arab-Americans for what happened, saying
"that's not how she lived her life and that's not what she wants".
It has been difficult to find a lot of personal information about Vicki. I imagine that the media focussed so heavily on her sociopolitical achievements and interests that the other stuff, the essence of who Vicki was, was to an extent overlooked. Although I salute Vicki's achievements in her political life and her career with the Navy and beyond, it isn't what I wanted to focus on today.

Here's what some of her friends and colleagues had to say about Vicki:


"Vicki was loved by many and liked by all who knew her. She was a remarkable person who was full of energy and enjoyed her life. May God keep you and your family."
LaRae Dudley
"She was so very proud of her daughters and devoted to her family. Vicki was a very special person."
Ma
rie Jardina
"I was stationed with Vicki and David in Hawaii and remember what a sweet and caring person she was." Susan Nocera
"A real sweet lady, always smiling." Greg Wolf
"Vicki was a beautiful person who will always have a special place in my heart." Nick Pietrefesa
Vicki was also an active member of the online community:
"One of the brightest and thoughtful people who could discuss an issue with maturity and sense.
I know she is missed by her family a

nd friends, but there is also an internet community that misses her. We are the less for her loss." MH




During my research on Vicki, I discovered that she did not like to fly, but had no choice but to go on that business trip. I discovered that David's anger at the loss of his wife made it difficult for him to accept - I can only imagine how difficult. I also found that David has a huge number of people out there who care about him and Michelle and Carolyn, and that these people pray for each of them every day. Mine are now among those prayers.

Today I remember you, Vicki Yancey, devoted mother to Michelle and Carolyn, daughter to Salvatore, loving wife to David, sister to Gloria, Ronald, Raymond, and Richard. I will think of how you loved Les Miserables so much that you read it ten times or more, and went to New York to see it three times.

I will think of how you loved to watch figure skating, or to debate political issues online. I will think of how you loved the beach.

I will think of David describing

you as "
the epitome of a middle-class woman, who loved her kids, loved politics and loved life".
I will think of your father calling you "a
good American citizen", and of the headline in the French newspaper Le Monde after that fateful day:
Nous sommes tous Américains.



We are all Americans.

God bless you and your family. You will never be forgotten.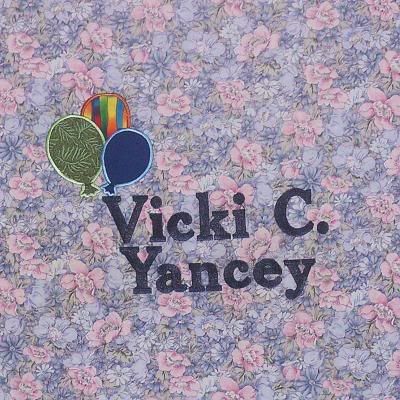 Visit
here
to see all tributes to the victims of September 11th.