Sometimes I remind myself of the girl in this cartoon: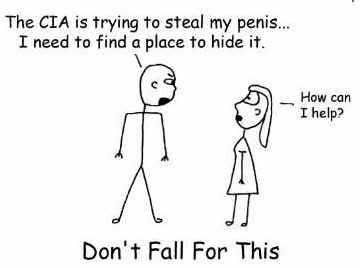 I worry that I'm too trusting. At lunch today, I was in the kitchen area of our office, opening up a can of Heinz Chicken Soup. Mmm. Try to contain your salivation. There was a guy ahead of me in the queue for the microwave, and we chatted for a bit, then he said, Kav, go on back to your desk - I'll put your soup in once mine's ready.

I was all like, no, no, it's alright, but he kept saying, no, I insist, so what could I do? I wasn't about to lamp him a headbutt and say "I'll heat up my own fackin soup, you caaahhnt!" for doing me this kindness.

But back at my desk, I couldn't help but think: why did he so desperately want to be alone with my soup? Has he slipped me some rohypnol? Did he shoot his load into my chicken soup? Did he get everyone else in the office to hawk a loogie into it? Worst of all, is it just that he's a decent guy who goes out of his way to be kind to his fellow workers? *shudder*

I'm eating it right now. If I never post again, you know why.

What would you have done?