Tonight turned out to be surprisingly good. It was a close friend of Linzi's surprise 30th party...with a Western theme. Ugh. I hate fancy dress in all its forms. Despite that, here I am, about eight hours ago: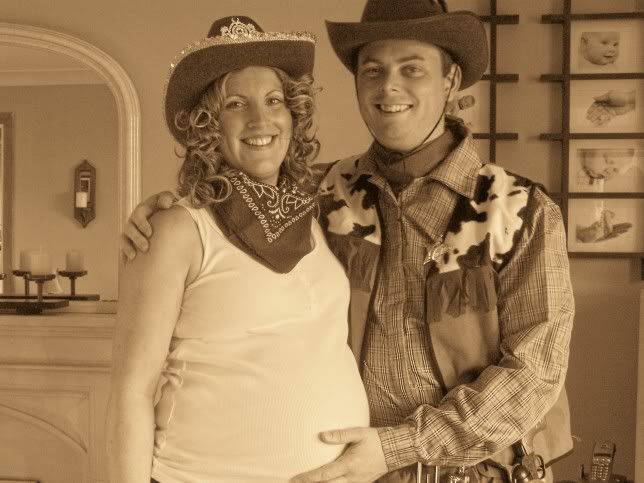 That's my baby I'm holding. Both of them.

So she's really fucking snobby, this girl who's hosting the party. That's the main reason I was dreading it. I hate the awkwardness. And besides, it's a faux-snobbiness. It's a middle-class attempt at being upper-class.

Give me a party where I can walk in, grab a beer, and talk shit, and I'm happy. When it comes to air-kissing and selecting the Pinot Grigio over the Cabernet Sauvignon because its fruity dryness complements the Doritos, I'm fucking lost. I faced this evening with some trepidation because I figured that (a) there would be lots of people I didn't know there and (b) they would all have their heads up their arses and have been raised in a world so far removed from mine that I would find nothing whatsoever in common with them.

There is some validity to my trepidation. I've been to parties at their house before which have ended up exactly like this. Vulgar flirting and even more blatant oneupmanship. If you've read American Psycho, picture the world inhabited by Pat Bateman - the superficiality and smiling duplicity of slick boys and girls who've never had too work too hard to get what they want.

Good news though. My worries were in vain. There was a good bunch of people at the party. Since it was Norman's 30th, it was mostly his friends there, and since he is a really down-to-earth guy, most of his friends are pretty normal too. I got a bit drunk and had a generally good time. I didn't make an arse of myself. I ogled all the saloon girls' cleavage, and Linzi didn't mind. If she wasn't 9 months pregnant, she'd have been flashing it right along with the rest of them...

Well. Time for bed. Linzi just snapped me a few minutes ago, on the couch downstairs: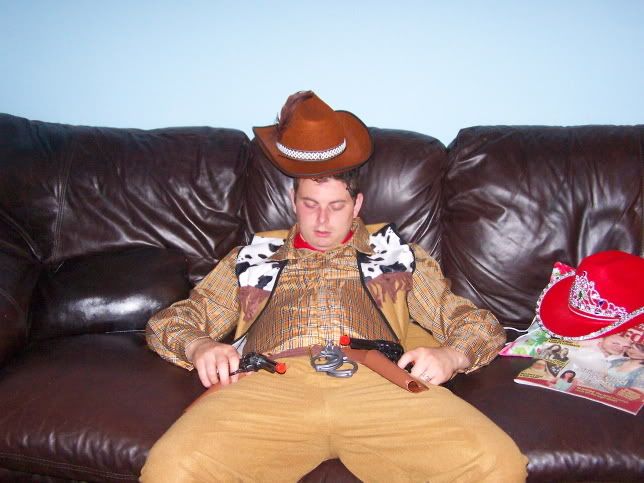 Peace on earth, good will to all men. And women. Happy new year.